Frameless glass partitions
Discover another dimension of utilitarian spaces. Discover interiors which hypnotise.
Glass surfaces may be applied in many ways. They are commonly chosen while decorating house but also to decorate office space or shopping centers. The secret of their popularity is connected with natural beauty of material and easy way to keep them clean. Frameless glass partitions are really impressive.
Everywhere style matters
Glass partitions are the most frequently applied solutions in office blocks and shopping centers. Aesthetic and modern structure of glass makes the particular place more attractive and stylish. Our offer of glass partitions is an ideal solution for vast office space, shopping areas or even for whole shopping centers.
Glass partition is an excellent way to complement the modern interior decor, especially when they are combined with other glass elements such as glass stairs or banisters. Such solutions may be also applied in house as a fulfillment of a modern conception of dividing the room into two separated parts.
Glass used to create partitions is tempered, damage-resistant, scratch-resistant and not easy to break, what makes it ideal to play its role. Glass partitions are also available in 'double-safe' version- in such variation of the product, even if it happens to break the glass, its small elements won't spill, but they will stick to the foil located between two panels.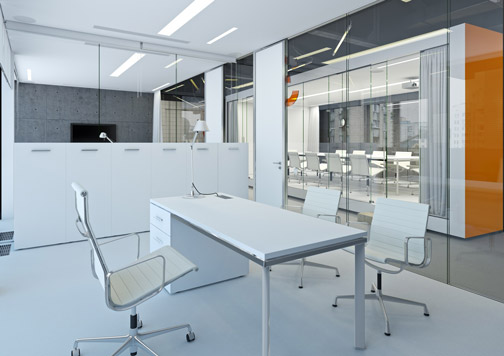 Assessment and measurement
If you have any questions, please contact us. We will be happy to help you.